The Blessing Of Christmas Essay
The gift in an envelope said, 'Christmas hampers for needy families.' Having rescued 233 children in 2014 it was a huge challenge to pick which families needed this most. The spirit of sharing is in the air and we were giving thanks to our partners who have given gifts to cheer some families. Christmas is a time when families get together to celebrate and catch up.
For many of these families, Christmas makes no difference and life moves on in their daily challenges of hand to mouth toil. Thank you for this gift.
Dominic Nderitu's Family:He was rescued in February 2014 and his family lives in Nanyuki 400 Km from Nairobi, on the foothills of Mount Kenya, plus two hours motor-bike ride from Nanyuki town. Dominic's mother died a few years ago. Dominic was left under the care of his sickly father and his paternal grandma. There is abject poverty in this home which is located in a sparsely populated area of Nanyuki without many amenities.
Good tidings of Christmas gift brought a new lease of life to this needy family. We handed them a hamper box with food stuffs and books for Dominic, who was overwhelmed with joy. His father and grandmother opened the box and after checking what was inside, they had no words to express their gratitude. His  grandmother declared a blessing and appreciation the team. Dominic's grandmother asked him to light a fire and start making some chapatis as they all longed for this rare meal. Christmas had come early for this family!
Allan Kafu and his family were also benefitted from this Christmas gift 2014. They were amazed to receive food stuffs as a Christmas gift. On emerging from the main gate Helen (Kafu's sister) and Kafu rushed towards the gate to welcome the team."Oh my goodness! Our angels have come to bless us this season." Kafu was reintegration with his sister, Helen on 28th October 2014. He has been helpful and mixes well with others. That was her joy and that we had kept our word that we would visit Kafu again.
As team went on to receive updates about Kafu they also presented the box containing the gift. Helen went:"Aaaaaaiiii, God is great; we did not have hopes of receiving anything for Christmas let alone traveling home to Kakemega where we have our other family members to celebrate this Christmas with them. TKW teams noted that all through Kafu's face had brightened up and his friends from the neighborhood were asking who the visitors are? He responded with confidence "these are my sisters." He did not wish to extend his explanation of where or how they had met; all that mattered is the love these "angels "had shown him and his family. On the other hand Kafu did not want to disappoint his friends after they had reintegrated him home.
Musalia Muli family felt highly favoured: Florence Muthei,Musalia Muli's mother, rose from her seat and welcomed us with a big smile. She took our packed paper bags full of foodstuffs. Earlier in the year we had helped her clear huge school fees arears to enable her son to complete school when she had lost hope of her son ever completing school. She explained this as tears trickled down her cheeks. When we told to her that the Christmas gift was from one of our friends, she could not stop crying saying that this was the year of the Lord's favor in her life.
We thank God for our partners who gave toward these families, for sure witnessing the  smiles and tears of joy from them are the greatest reward…
Stephen, the skating boy's family: We arrived late to deliver the early Christmas gift to Stephen's family but they kept awake waiting for their visitors. Their joy was made full and we thank God that this Christmas will be different for this family. God has visited them. Immanuel, God with us.
JK Hall government rehab: There was joy and laughter as goodies were dished out, food was served and a Christmas tree was decorated. The season of goodwill was here to celebrate!
Every boy had enough food prepared right there by a caring TKW team sharing love in action.
'Ronald Mwangi's family: "Praise the LORD! I am lost for words with the love TKW has shown my family with this visit and these gifts"''May God almighty increase you abundantly! Said Ronald's mother, Mary Kanini. She could recall how TKW team ignited hope at a time she was almost giving up because her husband left her with three children to raise on her own.
Her business has picked up quite well and at the time of the visit, she was beaming. She shared with the team her hopes of investing more in the thriving clothing business as well as increasing her savings because she wants to diversify her business.
She was totally surprised when TKW team arrived with the Christmas gifts. She also invited her Pastor Josephine to share in the celebration. "This will go a long way to boost my shopping as my children and I will not worry what to eat for Christmas" She said as she once again appreciated this gesture.
Thanks to our friends and partners, we shall celebrate Christmas in style as we also celebrate the gift of God's son, 'Immanuel, God with us.'  Happy New Year 2015 as together walk more children back home……
Don't you love getting hit with inspiration?
This morning I came upon a post from the blogger behind the Imagination Tree. She's not in love with the Elf on the Shelf (can I get an amen?) and has come up with an alternative: The Kindness Elves. You should go read what her plan is because it's awesome (and her elves are ADORABLE), but in a nutshell, each day the elves will suggest a way for the family to show kindness to others.
I love the idea of making Christmas about something other than GETTING. Of course our kids know that the real reason we celebrate Christmas is the birth of Jesus, but in the busyness of the season, it's easy to get caught up in all the 'stuff' (both that we get and that we have to do) and forget to look beyond ourselves.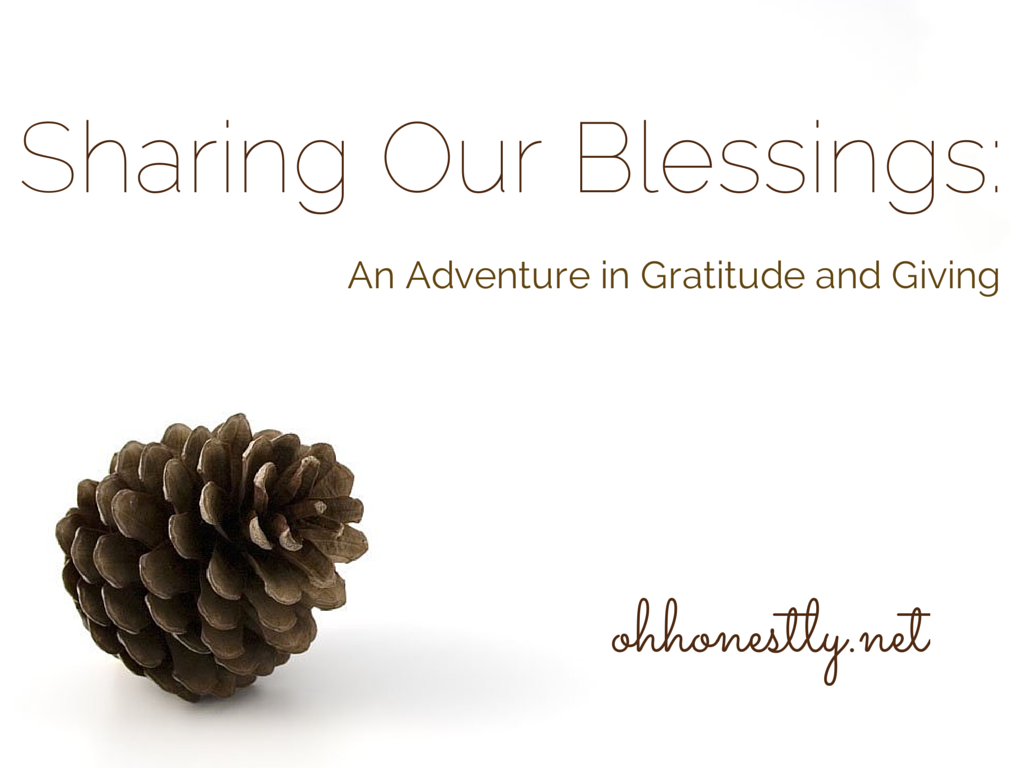 Sharing Our Blessings: An Adventure in Gratitude and Giving
As I considered if the Kindness Elves were something I wanted our family to do, I knew I needed to modify that plan. As fun as it must be to make inanimate objects look like they come to life at night, I know I would quickly tire of it. Once a week? Doable. Every night? No thanks.
I ruminated over how to tweak the Kindness Elves to fit our family and then it hit me: Why not extend this project beyond Christmas and begin in November, the month when everyone starts listing all the things they're thankful for?
My plan is simple (and doesn't include an elf. If that makes you sad, re-modify the plan and use one. You've gotta do what works!). Each day in November, our family will name something we're thankful for. We'll then brainstorm ways to share that blessing with others.
By the end of the month, we'll have a long list. It will probably look something like this:
We're thankful for our toys- We can give a less fortunate child a toy.
We're thankful for our house-  We can invite a family to our house for dinner.
We're thankful we have food to eat- We can make cookies for our neighbors.
We're thankful for our friends- We can write a note to a friend telling them why we're thankful for them.
Etc.
I love the idea of my kids coming up with the acts of kindness themselves. I think it will hold a lot more meaning for them if they take an active role in the planning process.
Once December rolls around we'll put our ideas into action. We may not do something every single day, but we'll do as many as we can.
Would you like to join us? Each day in November, I'll post on Facebook and Twitter what we're thankful for, along with the corresponding idea for blessing others. I'll use the hashtag #sharingourblessings so everything can be found in one place. I encourage you to share your ideas too!
Then in December I'll document what we do to share our blessings with others and post it here on the blog, as well as on social media. Again, I'd love for you to join us and share your stories!
Hopefully this will be the start of a new tradition: One that cultivates kindness, gratitude, selflessness, and giving hearts. We could all use a little (or a lot!) more of those attributes in our lives and this will be a fun way to put them into practice.
[Tweet "We're #sharingourblessings this holiday season. Will you join us? @Oh_Honestly_LC"]
Filed Under: Family Life, Holidays, I Tried It!Tagged With: adventure, blessing, Christmas, giving, gratitude, sharing our blessings, thankful, Thanksgiving